Breaking the Block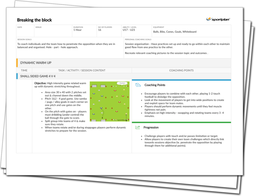 With teams defending deep and looking to play on the counter, it?s important to be able to break through block defences by creating and exploiting space cleverly. Work on your players decision making and movement to break a deadlock.
What?s in the Session?
Session focused on attacking principles ? playing through defensive block.
Players will recognise situations where there are opportunities to break through the opposition with clever play.
Identify space, decision making, and intelligent movement, creating and exploiting space.
The session is aimed at players between the ages of U17 ? U21
Conditioned Game
To coach individuals and the team how to penetrate the opposition when they are in balanced and organised. Whole - part - whole approach.
This session is available as part of an Interactive Coaching Pack, scroll down to learn more