Preparing for your next game - Team Session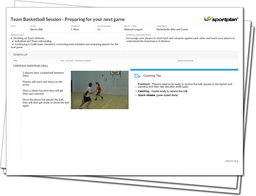 Get your players working together with this team session - perfect for building team chemistry and preparing your players for their next big game! Having a good team spirit out on court will lead your players to winning their fixtures, and communication is vital to succeed.
Throughout this session we focus on team defence (defensive stance, help defence and boxing out) before then working on individual and team rebounding skills.
Try this session today and encourage your players to work hard and compete against each other - while learning the importance of a solid defence!