Search
results for

: dig drilss

We found 12 results matching your criteria:
Drills

category: 5-Drills
Volleyball 4 Player Dig Pass Relay 5 Drills A 4 player dig pass relay over the net.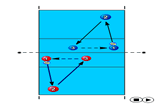 category: 4-Passing-Drills
Volleyball Accurate Digging 4 Passing Drills Players work in pairs with a ball between them. The player starting with the ball spikes it to their par...

category: 5-Drills
Volleyball Dig The Kill 5 Drills 2 players stand on either side of the net, and the receiver starts with the ball by overhand passing it across the n...

category: 5-Drills
Volleyball Dig Technique Drill 5 Drills Volley the ball to your partner who digs the ball to themselves then volleys the ball back and you do the sam...
Web Videos
Mike Lingenfelter, Munciana Samurai head coach and four time national champion, runs the "Fab 50" drill to train players how to communicate with each ...
Terry Liskevych goes over the Dig-Set-Hit at The Art of Coaching Volleyball Portland Clinic. This drill is a team ball control drill. More info: ...
Inside Volleyball Practice - Figure 8 Drill for Defensive Specialists Coach Ashlie Hain SportVideos.com and Ashlie Hain is the Head Women's Volleyball...