Search
results for

: beginner

We found 45 results matching your criteria:
Drills

category: Rally-Drills
Players rally together. Players have to pop the ball up before they hit across the net. Coaching points.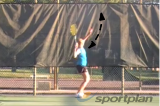 category: Serve-and-Return
The player faces the back fence and imitates serving action. The player's goal is to reach with the racquet as high as possible and touch the fence...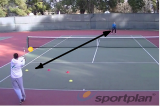 category: Backhand-Drills
Coach rallies with a player using only backhand cross-court shots. Player tries to hit all the balls deep into the zone. Coach tries to put as many...
category: Movement
Both players side step along the tramlines throwing the ball (underarm)to each other until they reach the net and then return to the baseline doing...
Web Videos
In this beginner tennis lesson, I teach my student Anna how to hit the forehand, backhand and the serve. If you have never played before you can follo...
To hit winning forehands or backhands you must combine the right grip, with the right stance, with the right stroke, all in the right time. This Begin...
If you are a beginner and want to improve your tennis game it is crucial that you learn how to keep the ball in play. Once you learn the fundamentals ...
In this beginner tennis lesson, I teach my student Chelsea how to hit the forehand. This was her first time playing tennis. If you have never played b...
Sessions

To constantly change the spin and direction of shots to gain a tactical advantage during a rally.
Unlocked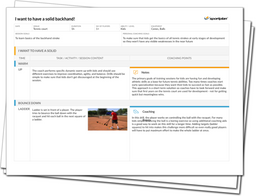 Help develop your young players' backhand and get on track to succeed on court, with this session!
Unlocked

Have a clear idea of where to hit your volleys. Don't snatch at the volley, control the depth and the speed to be able to gain better court position o...
Unlocked
These fun and challenging exercises teach players the correct volley stance and technique, just like the volley master John McEnroe!
Unlocked
Community Drills
We've recently picked up tennis as a new sport. It's hard to dedicate enough time to improving your stroke, practicing volleys, and playing the game a...
With beginner group, go over smash technique. Feed lob to forehand near service line. Smash deep.
... today's lesson teaching you how to hit a forehand and backhand in tennis. this is the biggest beginner tennis lesson in ...
trainer speelt een korte bal in een boog , speler loopt in het veld speelt de bal gekruist en sluit aan aan het net en match uitbijsturen tijdens de w...