Search
results for

: Phase Play

We found 18 results matching your criteria:
Web Videos
Subscribe: ... Twitter: ... Facebook: ... Instagram:... ...
Munster - Northampton O`Gara drop-gol.
Sessions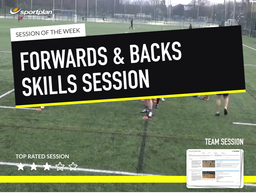 Make sure your forwards and backs have the skills needed in Rugby with this session, improving areas such as the punt kick and scrum!

Continue your play and get your team working as an unit, with this session!

Get your team confident in both attack and defence with this phase play session, jam packed full with challenging exercises
Community Drills
Attack vrs Defence:Coach will call 2 numbers1st will be the number of attackers to enter grid2nd will be the number of defenders to enter grid.On thje...
half - a switch but 13 X ball- 10/12 switch. Winger runs switch off 12Halfpenny - dummy switch pop