Search
results for

: extra

We found 66 results matching your criteria:
Drills

category: Group-practices
Netball Additional defence Group practices The first team starts with the ball inside the attacking third, with all the other players except one stoo...

category: Extras
Path of ball Path of player Cones Netball Players Stick person used to demonstrate ball handling Grid - Each shaded (5m x 5m) box shows size of prac...

category: Extras
Half Netball Court Drill Thumbnail View this drill. Half Netball Court. Extras Drill Thumbnail View this drill. Extras. 1 vs 1 Defending in the Circl...

category: Movement
Netball Follow Ball - Part 2 Movement Add an extra feeder to the Follow ball part 1 practice and an extra ball as well - in each queue the 1st person...
Web Videos
An action-packed weekend, what was your 'Top Play' from Round 2? For extended highlights and full match replays go to the Netball Live App or Telstra ...
Netball world championship final match between Australia and New Zealand. Extra time after draw in regulation time! This has been uploaded for critiqu...
NZ Silver Ferns vs Australian Diamonds - Gold Medal Match - Commonwealth Games - Delhi 2010.
NZ Silver Ferns vs Australian Diamonds - Gold Medal Match - Commonwealth Games - Delhi 2010.
Sessions
Improve your attacking players' preliminary moves - to help them outwit their marker and get free to receive the pass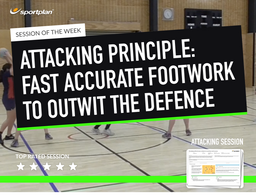 Encourage concise, decisive movement from your attackers to create space and maintain possession. Outwit the defenders and take your games by storm.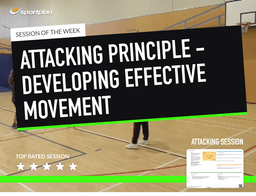 The circle is a shooters domain, but it's got to get there in the first place. Discover the value of mid-court players when playing in the circle.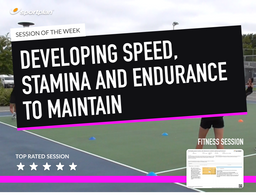 Fitness, something which everyone has the ability to improve and what can make all the difference when it gets close at the end.
Community Drills
GS/GA begin at goal postSprinting to cones and then back to postComplete circuit on all cones then make your shot under fatigueFast footwork, small qu...
Center Pass: Inside InsideSTEP TWO: WA has possession of the ball. They have 2 options: fast pass to the already waiting GA or if GD is too strong the...
Working in a confinded area, the attacker must make a variety of moves to evade the opponent and receive a pass from the thrower. However, the defende...
Set up four dots 1 metre apart in a square calling them a/b/c/dWorker to stand in the middle of the square doing fast feet.You call a b c or d and the...