Search
results for

: coaching

We found 53 results matching your criteria:
Drills

category: Passing
Netball Chest pass Passing Players in pairs with one ball about 5 metres apart.

category: Getting-free
Netball 3 v 1 Getting free Ball tarts in the middle 1/3 passed to player in the attacking 1/3 and the GS has to get free to receive the ball, marked ...

category: Warm-ups
Netball Bulldog Warm ups Setup : Choose 1 player to be the catcher - they start standing on the line between 2 thirds, wearing a bib. All other playe...
Our Sportplan Netball Community is made up of over 50,000 coaches, volunteers and teachers and is continuing to grow. Created using our animator and ...
Web Videos
This netball video guide will show you a drill to work on team movement when atttacking. You can easily involve different numbers of players and rotat...
... Welcome to thenetballcoach.com, your number one resource for netball coaching videos, with drills, skills and instruction from ...
Get your netball team ready for a big 2018 season with coaching drills and skills videos from thenetballcoach.com.
Sessions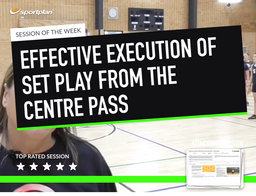 Master a number of set plays focusing on getting the ball out from a centre pass, through the second phase and into a position to shoot.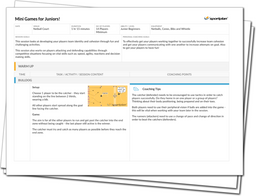 Pass, move; pass, move. You've heard is before but you've never done it like this!

Refine your players' shooting technique and take those chances, with this shooting accuracy session!
Develop your junior players' shooting technique, giving them the skills they'll need put up a successful shot on goal!
Community Drills
Description1 team starts with the ball in their third and tries and make 10 consecutive passes. The other team can send 2 players across to try and wi...
AIM: Good pick up of difficult pass/rolling ballRULES: 2 teams of equal players stand one in each goal third.The ball is passed between teams with poi...
Slowly the two attackers pass the ball back and forth down the court towards the circle. The defender must move to the ball side of the player inside ...
Shooters must pass the ball 5 times before shooting.Coaching points:Shooters awareness of where each other is (1 high, 1 low or 1 out 1 in).WA and C a...