Search
results for

: Reverse%20Stick%20Drag

We found 36 results matching your criteria:
Drills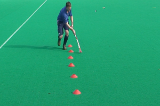 category: Video-Techniques
- Perform the indian dribble outside of the left foot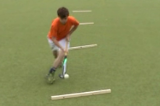 category: 3D-skills
To do this skill the players should run to the left of each wooden stick and reverse stick drag the ball to their right, then forehand lift the bal...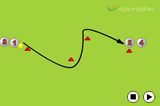 category: Moving-with-the-ball
Setup the practice as shown.
Player runs up to the 2 cones then open stick drags (right to left) the ball and runs to the far cone. Then g...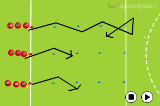 category: Practices-For-Juniors
Set out 3 or 4 identical lines of cones between the half way line and the 23 meter line.
Web Videos
Australian field hockey player Jeramy Hayward demonstrates his drag flick technique. Jeramy is one of the best drag flickers in the world at the momen...
How and when to do the reverse stick shot or drive in field hockey.
A short and easy tutorial explaining how to do a Reverse Stick Drag.
Sessions
Make the most of the overload - keep the opposition's defender guessing - will your players go it alone or use their option on the left?
Unlocked
Sometimes the old tricks are the best, that's why in this session we use the reverse stick drag and the pull back to get past the defender!
Unlocked
Community Drills
- dribble in & out of cones- add V drag in before cones (player should be running straight at the left cone and drag the ball transferring his/her...
Technical practice: each player with a ball. In area practice changing angle of run.Right to Left using open stick - stick on ball, to side and drag...