Search
results for

: Jab & Block

We found 24 results matching your criteria:
Drills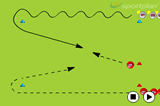 category: Defending-Skills
Two defenders can work together to channel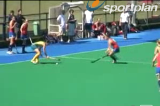 category: Roles-and-Responsibilities
Head The defending player should constantly scan for possible tackling opportunities, teammates to channel the ball carrier into and possible passing ...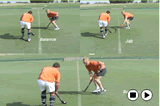 category: Defending-Skills
The jab can be used as a form of delay either to dispossess a player with the ball if the ball is away from the stick or to tempt the player to...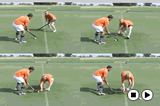 category: Defending-Skills
Strong low body position and balanced ready to move.
Left foot forward, right foot back, stick on the ground or hovering slightly above the...
Community Drills
Needed? 6 Cones, Balls, 6 players, GoalHow? Attacker (Blue) takes a ball and tries to eliminate two defenders, while staying inside the cone lines. Th...
Defender moves to meet Offensive player and chanels them to opposite sideline. Add a second player to create double team and trap.Focus on footw...
1 tegen 1 punt door bal tegen kegel tegenstander te drijvenverdediger : jab en channel AANDACHTSPUNTEN :positie van de voeten afstandNIET instappen
Block TackleJab TackleA: Attacker dribbles with ball around cone 2D: Defender engage then with block/jab tackle