Search
results for

: passing%20and%20receiving

We found 35 results matching your criteria:
Drills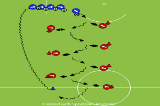 category: Passing-and-Receiving
Players run diagonally up the field - passing and receiving to each player.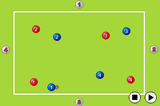 category: Passing-and-Receiving
Split your players into three equal sized teams, with two teams starting inside the area and the third spread around the outside of the grid.
...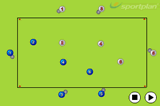 category: Passing-and-Receiving
Progression from practice f5110a.

Progressions:
-Return with one then two touches.
-Receive with outside of the foot, insid...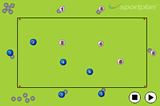 category: Passing-and-Receiving
2 players per group, 1 ball per pair.
Players inside the grid are without the ball, players on the outside each have a ball.
The insi...
Web Videos
Working with a group that is getting ready for preseason, focusing on some passing and receiving exercises as well as some dribbling that incorporates...
Passing and receiving drills in a diamond shape for soccer/football players. Feel-Coaching.eu.
https://www.thecoachingmanual.com/
Total Football Benchmarks "Passing + Receiving"
Sessions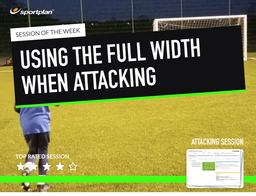 Stretch your opposition and drag defenders out of position with this wide attacking session, complete with two great conditioned games!
This session answers the million dollar question - How do you get your players talking on the pitch?
Work on their fitness and keep them engaged! Running and Possession session - keep the ball and spend less time chasing!
Community Drills
Part one: Dribble and Pass.Part 2: Dribble hand off. Purpose:Get warmed upFoot skills (Close quick touches)Passing and receiving.
Set two cones at top 10 yards apart and the rest of the cones 20 yards apart (narrow at top and wide at bottom). Two player start at one cone and one ...
2 groups. Players in the circle dribble the ball around and make a pass to the player standing outside the circle. After passing and receiving, player...