Handball Drill Demonstration
Description
The first player passes to the middle player and then follows their pass.
The middle player holds the ball in their outstretched right hand.
The player following up their pass lands in front of middle player, takes the ball and makes a little step to the left before changing direction and running around the middle player before finally passing to the next player who repeats this drill.
Coaching points
As players land they should bend their knees, so that they can easily and quickly change direction.
As players feint to the left they should drop their shoulder to make it convincing before pushing off their outside foot to drive into the opposite direction.
Drill tags: dummy, fake, faking, feint, feinting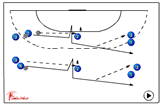 More 322 feinting (Dummy) with ball Drills
---