Gymnastics Drill Demonstration
Description
Using a cross box and spring board take a three step run up and hurdle step on to spring board.

Lift gaining flight on to box.
Place two hands on the box, tuck with hips above shoulders.

Bring tucked legs between arms keeping head up.

Land with flexed hips and knees.
Coaching points
Place hands on box at shoulder width with fingers forward.

keep head up to stop forward rotation.

Keep arms fully extended.

Slowly increase flight on and off the box.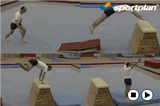 More Key 3 Through Vault Drills
---