Gymnastics Drill Demonstration
Description
Straring in long sit rock back to shoulder balance with hands pointing to shoulder by ears.

Briefly hold and lower legs to inverted tuck.

Briefly hold and return to long sit through shoulder balance.
Coaching points
Good body tension and extention is required throughout.

Keep hands near to ears with fingers pointing to shoulders during shoulder balance and tuck.

Look for good rhythm.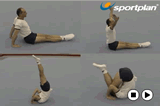 More Key 3 Body Conditioning Linkage Drills
---