Hey ,
Keep ahead of the competition by using Sportplan to inspire and plan your training.
We're so confident that Sportplan will improve your football coaching, that we've created this 5 week trial so you can see for yourself, for just £1!
Get instant access to 100's of coaching ideas, videos and session plans and much more, check out our video or read on to learn more.
You'll receive instant access to over 500 football videos, drills and games, plus our professional coaching tools to help you plan your training
At least one tried and tested plan every week (worth £4 each) and instant access to the last three weeks worth of plans
Free 100+ Agility & Fitness Drills, ideal for your warm ups and keeping your players in shape
To welcome you to Sportplan, I'll include a pack of 4 top-rated plans (worth £16) yours to watch, download and keep.
You can get it all for just £1 - start your trial today and let me help you with your coaching this season.
---
Why Sportplan works:
Sportplan is designed to give you more confidence when you arrive at training and caters for all levels of coaches. Drills and ready-made-plans to assist and inspire beginners to advanced drills and professional tools for those who plan trainings for their entire club.
All our small-sided games, drills and sessions have been tried and tested by experienced coaches. You can watch the videos before you coach to understand how to run the drill at training and then read the coaching points and progressions for your more able players.
---
New ideas every week: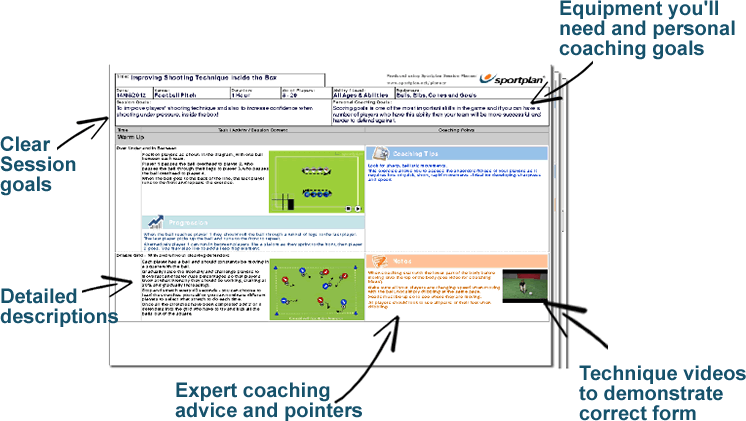 Short on time? That's where our weekly Football plans come in handy! Throughout the season our resident coaches share what they are coaching with you so you can use it too. No two weeks are the same!
All plans contain videos and diagrams. Watch the videos to quickly understand how to run the session.
Clear instructions, coaching points and progressions allow you to coach with confidence and challenge your players
Read the plans on any mobile, tablet or computer. You can save the plan as a PDF or print a copy to take on the pitch/court
Take our 5 week trial and upgrade to full access for just £1 today!
---
Manage your content:
With Sportplan, you can easily upload and store any content that you need for your coaching with our file storage service, from PDF's to videos.
Once you've uploaded your content, you can then keep organised by creating different folders, as well as sharing them with others! You can also access your files from anywhere.
---
---
We truly do want to help you and your players achieve their full potential and save you time and effort. If you join today you can stop worrying about finding new ideas to try out at training. Instead you'll have 500+ drills and games to use in addition to the weekly plans - emailed directly to your inbox.
If you're not 100% satisfied you can cancel your account and no further payments will be taken from your payment card. You'll still have full access until the end of your subscription period so you'll still be able to benefit from our weekly sessions and tips.
I hope this email answers any questions you might have, but if it doesn't please check our FAQ page or get in touch by replying to this email!
Yours in sport,
Bram Van Asselt
Founder of Sportplan